Wedding cars plays a key role in the overall wedding presentation, being a key player in the image your big day conveys. Whatever religion, tradition or faith you follow the one thing that can be agreed across the community of brides and grooms is that a luxury wedding car is imperative.
At Wedding Car Hire we are always trying to help happy couples select the perfect wedding car for them, assisting them with cars that reflects their personality and the nature of their celebration. Below you will see our top ten wedding cars, we hope they help you with your wedding planning.
1: Rolls Royce Phantom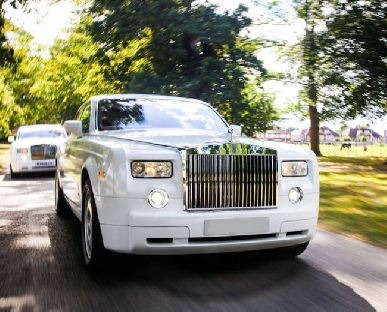 The Rolls Royce Phantom is our most sought-after wedding car, showcasing a certain affluence that adds a touch of class to a wedding day. From its luxurious interior to its magnificent design, the Phantom is renowned for its incredible reputation of elegance. At Wedding Car Hire we stock a fleet of all colours, ensuring your wedding car further enhances the plans in place.
2: Rolls Royce Ghost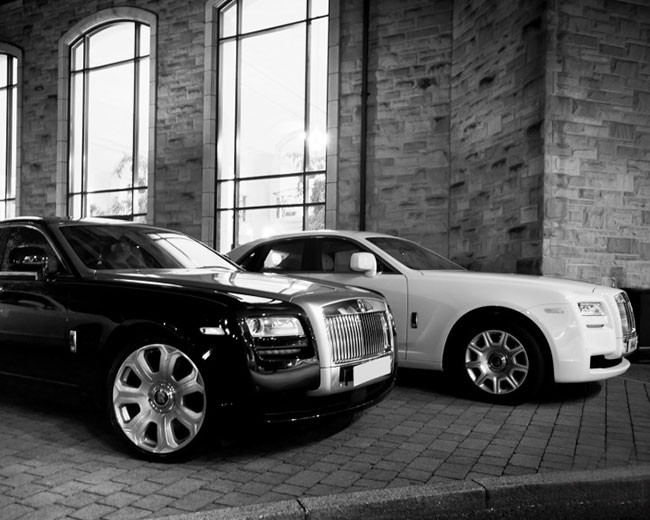 The Rolls Royce Ghost is a wedding car that has been blessing UK weddings for many years, providing its timelessness and traditional qualities. Promoting comfortable travelling and astounding interior the Ghost is the perfect bridal car for both traditional and modern wedding celebrations, providing a sophisticated travel experience to all that have the pleasure of being a passenger.
3: Mercedes S Class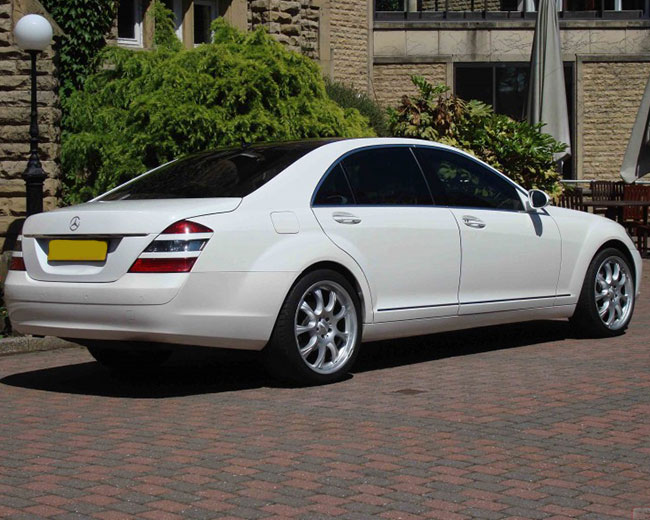 The white vehicle makes that great impression of sophistication and glamour, a prodigious car that everyone will recognise as an admirable wedding car choice. Mercedes are infamous for implementing that sense of desire that is essential on the most important day of your life. If you are looking to stand out on your wedding day then be sure to enquire about our S Class range.
4: Rolls Royce Silver Cloud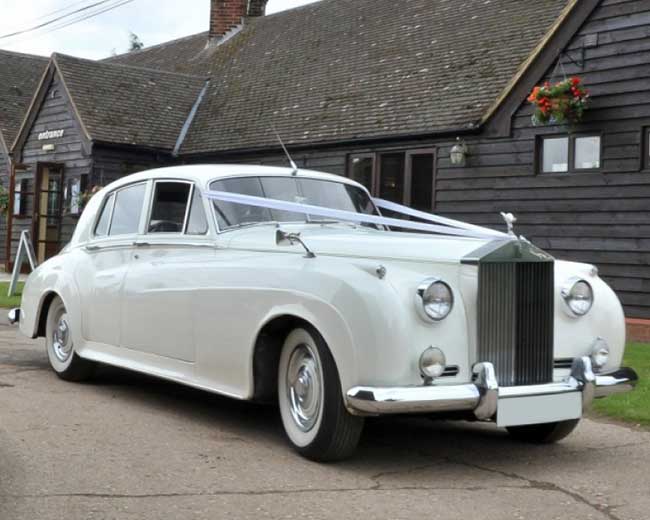 The Cloud is more of a classical choice, encapsulating traditional qualities that are refined yet luxurious. Offering a blend of qualities, both understated and lavish, it is true to say that this vehicle possessing everything you need in a wedding car, as well as making for astounding wedding pictures.
5: Tuk Tuk Hire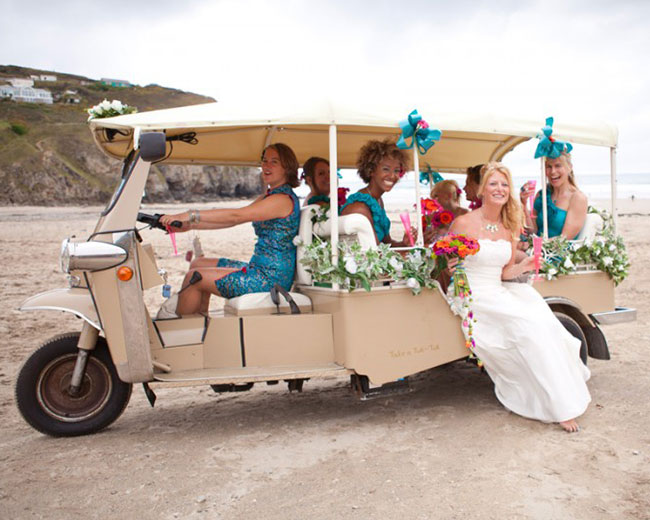 Looking for something a little unconventional? We have just the thing! Our fleet of Tuk Tuks or 'Rickshaws' as they are commonly referred to is the perfect novelty wedding car option. Enquire with the member of our team today and give your guests something to talk about. .
6: Chrysler 300c Limo (Baby Bentley)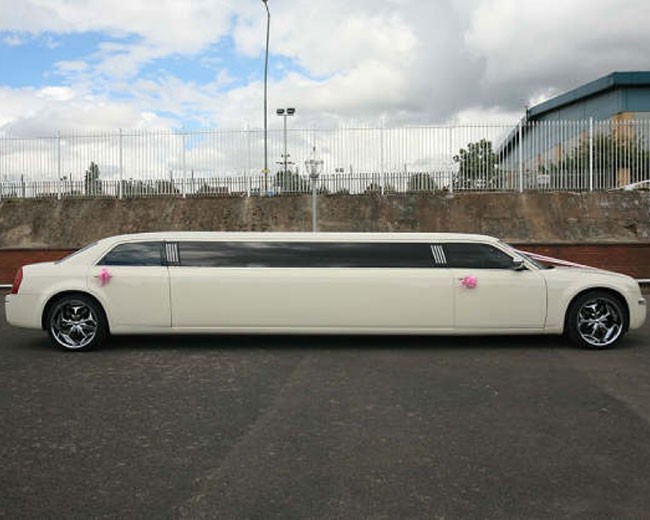 Wedding limousines really possess that wow factor that all brides and grooms crave for, with the long wheel-base offering an image of importance and wealth. The Chrysler300c is one of our most popular limos, with brides and grooms feeling like royalty when sat inside. Its spaciousness is a feature that is highly sought-after, making room for big wedding dresses as well as friends and family members.
7: Bramwith
The attractive Bramwith is a classic wedding car option, showcasing a beauty that is understood by all that lay eyes upon it. This car has proven to be a great travel choice for brides and grooms alike, a universally celebrated wedding car with a vast range of stunning features.
8: Porsche Panamera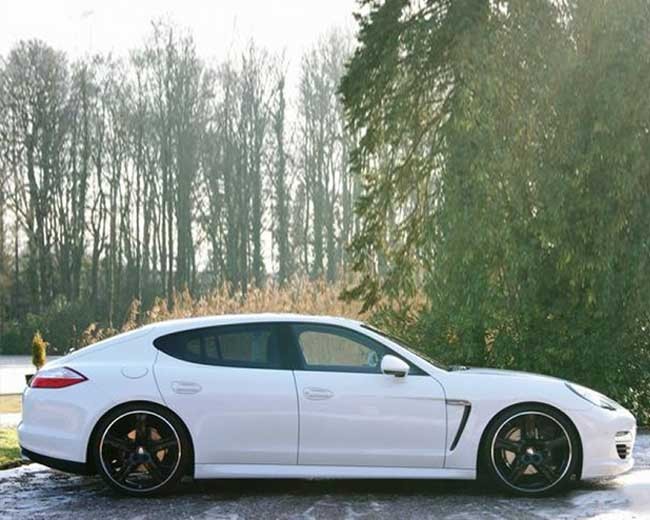 This vehicle is a real joy to travel in, being notoriously smooth when taking to the streets of the UK. Due to its humble, understated nature, it makes for the perfect wedding car, getting brides, grooms and close members of the family to the venue on time and in style.
it makes for the perfect wedding car, getting brides, grooms and close members of the family to the venue on time and in style.
9: Ferrari F430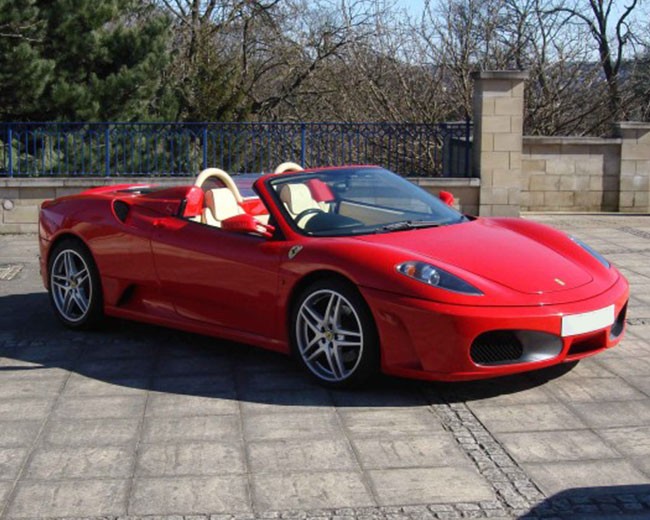 Of late sports cars have become a popular choice for wedding day travel with grooms in particular desperate to arrive at the venue in style. What better way to make a shocking arrival than in a Ferrari? Ferraris just posses that speciality that everybody recognises. Being such a rare car it will really make a unique mark on your wedding day. If you want to hire a self-drive Ferrari F430 then you are in the right place.
10: Lamborghini Gallardo
If you really want your wedding to stand out then the Lamborghini Gallardo is definitely the car to hire on your wedding day. supercars are synonymous with impact and this is the exact mark you want to make. As well as being one of the most exciting vehicles to travel in it is great for taking pictures in and next to. Weddings are all about creating memories that you can reflect on through photographs.
💐 Top 10 Wedding Cars to Add Glamour to Your Special Day 💐
| Rank | Car Model | Key Features | Perfect For |
| --- | --- | --- | --- |
| 1 | Rolls Royce Phantom | Luxurious interiors, timeless design, represents affluence and class. | Classic and Elegant Weddings |
| 2 | Rolls Royce Ghost | Timeless grace, lavish interior, and ultimate comfort. | Traditional and Modern Weddings |
| 3 | Mercedes S Class | Sophistication, renowned brand, modern glamour. | Contemporary Chic Weddings |
| 4 | Rolls Royce Silver Cloud | Classic elegance, blend of traditional and luxurious features. | Vintage Themed Weddings |
| 5 | Tuk Tuk | Novelty factor, fun and unconventional. | Quirky and Themed Weddings |
| 6 | Chrysler 300c Limo | Spacious, long wheel-base, royalty-like experience. | Luxurious Weddings with a statement |
| 7 | Bramwith | Classic design, timeless beauty, and charming features. | Romantic and Vintage Weddings |
| 8 | Porsche Panamera | Smooth ride, understated luxury, modern design. | Modern and Sleek Weddings |
| 9 | Ferrari F430 | Sports car, unique and thrilling experience. | Sporty and Adventurous Weddings |
| 10 | Lamborghini Gallardo | Supercar, synonymous with impact and excitement. | Extravagant and Bold Weddings |
Easy Comparision Table of the Top 10 Wedding Cars
The journey to and from the wedding venue should be celebrated just as much as any other part, with the wedding car being the environment in which significant parts of the day unfold. From emotional goodbyes between Father and daughter to celebrations as newlyweds, the car symbolises both the physical and emotional journeys of a wedding day.
If you would like to enquire about any of our top ten wedding cars then be sure to contact us today. A member of the team will be there at hand to talk you through your options, arriving at the perfect travel plan for you and your partner.
Useful link: How to start a wedding car hire business.